The 5 best fintech marketing campaigns of 2020
Financial technology (more commonly known as fintech) companies are rapidly growing and continuing to push the boundaries of financial services and technology. Fintech companies face a number of obstacles with their digital marketing, however, if they learn how to overcome them then there are a multitude of opportunities to create innovative and pioneering marketing campaigns. Here are five of our favourite fintech marketing campaigns from 2020, and the reasons why we love them.
#1 – "Half a Million Mikes" | Wealthsimple
Wealthsimple is a Canadian online management investment service company, with a heavy focus on millennials as their target audience. Wealthsimple is extremely active on social media, and with 248 million millennials hanging out on Twitter, this seems like a smart move for the company to have made.  
Wealthsimple realises that content is king, and they also understand that, frankly, finance can be boring to the average Joe. So, by creating head-turning campaigns such as "Half a Million Mikes", they are making investments much more relatable and, well, fun!
Why we love this campaign: 
We can't resist a catchy song! 

Wealthsimple's video takes us on a journey through concise storytelling, it's a matter of fact and to the point. With the attention span of today's consumer being just over eight seconds, grabbing someone's attention with a short and sweet message is key. 

It's humble. The campaign doesn't boast, and Wealthsimple simply explains the story of their establishment in a matter-of-fact manner. By highlighting that there are "half a million Mikes in Canada", the company taps into the simple story of its founder being one of them, making them relatable to us ordinary folk. 

Video content is the way forward. 

It's inclusive. The video resonates with Wealthsimple's target audience – millennials – and is representative of them. This bodes well when 77% of millennials claim that their favourite brands value inclusivity.
#2- "#12DaysOfBusiness" | Starling Bank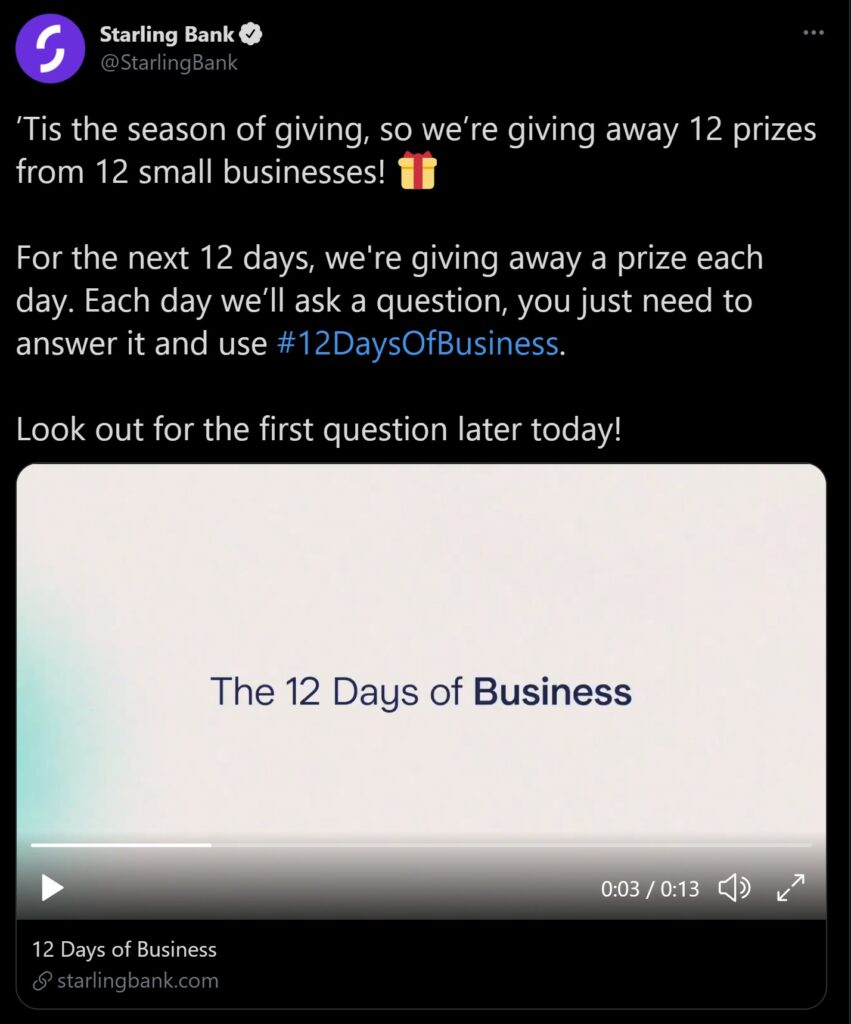 Starling Bank is renowned for its strong social media-centric campaigns. These campaigns aim to increase awareness of their mobile-only approach to banking – very on-trend with millennials! 
Over the Christmas 2020 period, Starling Bank added their own twist to the popular 12 Days of Christmas song, with their #12DaysOfBusiness Twitter campaign. Teaming up with small and local businesses for 12 days of giveaways, the company drummed up a ton of interaction and conversation with their followers. Relationships are key for fintech companies, and we reckon Starling Bank nailed it with this campaign. 
Why we love this campaign: 
It supports small business. Small and local businesses have struggled in 2020 and the start of 2021 more than ever, with lockdowns forcing closures across the country. Starling Bank did their bit to support a number (12, to be precise) of local businesses through this campaign, which was at the forefront of the messaging. 

It wasn't pushy. More than 40% of consumers will unfollow a brand if they see too many adverts. With this in mind, Starling Bank got their followers talking, tweeting, and interacting with them in a bid to win prizes and embrace the #12DaysOfBusiness spirit, without forcing any obvious ads on them. 

Who doesn't love Christmas themed marketing campaigns? 'Tis the season, and all that. Starling Bank successfully pushed aside conventional banking marketing strategies and tapped into something current and seasonal; this campaign was relevant and topical. 
#3- "52 Weeks Saving Challenge" | Monzo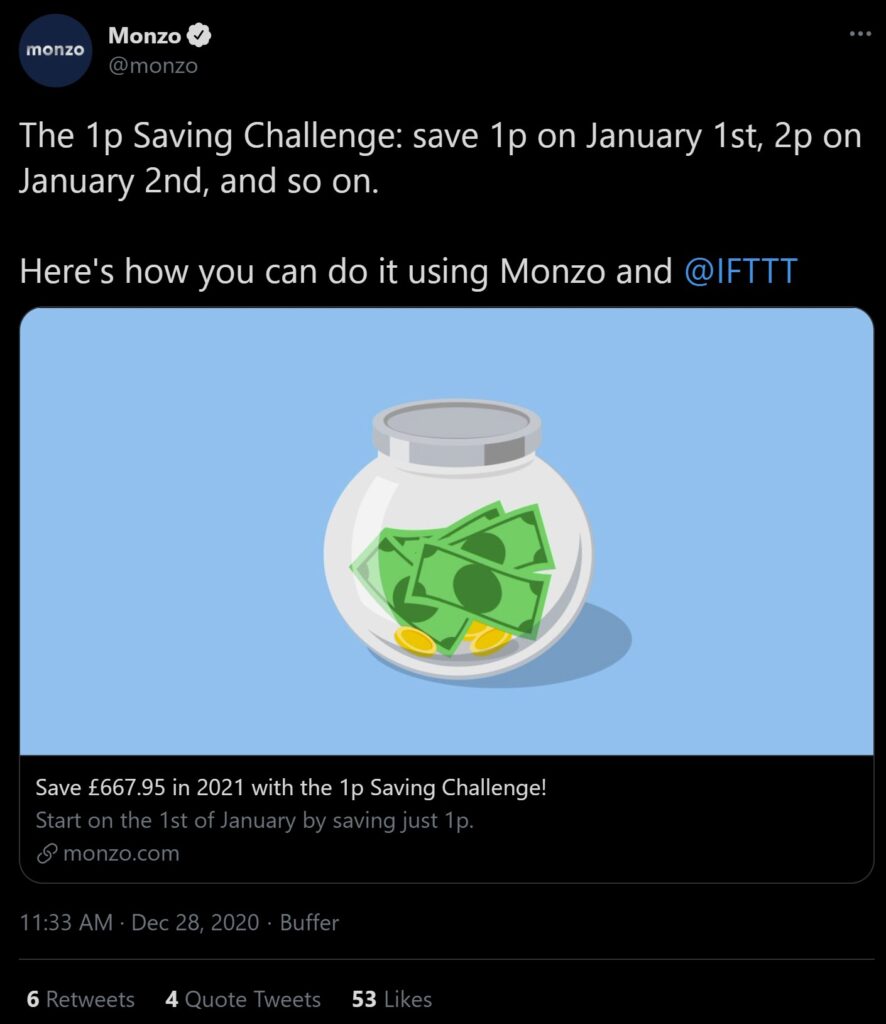 Monzo is arguably one of the most recognised fintech companies across the globe, with 40,000 people a week opening an account. Their marketing is top-notch, and they make a point of focus on their customers' needs, whilst educating them on the ins-and-outs of investing.
Why we love this campaign: 
It's simple! £1 in week one, £2 in week two, £3 in week three and so on. That's pretty manageable for most people, and the campaign itself is no fuss and no-frills. 

Monzo are cleverly targeting the right audience. Under 40s – who make up a huge chunk of Monzo's target audience – generally don't feel that they are where they should be with their savings. By promoting this simple and achievable money-saving challenge and appealing to millennials, Monzo are speaking to just the right people. 

Offering support to your customers is key to a business' success, and Monzo have created the perfect campaign for interaction and consumer connection. They continue to offer guidance and tips to their followers and customers as part of the 52 Weeks Saving Challenge, which is a sure-fire way to boost interaction. 
#4 – "Get Smoooth" | Klarna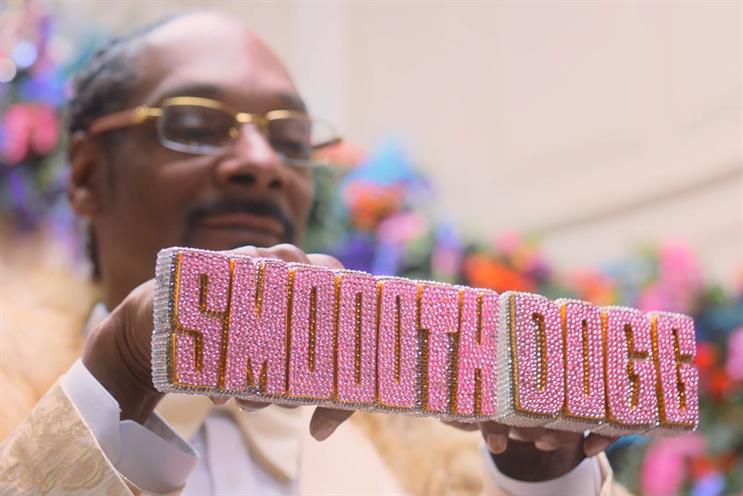 In an article written by AJ Cloyne, Head of Marketing UK for Klarna, he states "We are proud to be different, we are proud to be pink and stand out in a sea of boring blue, we know we speak and act differently than your typical financial institution." Klarna's marketing team is so on point, and there are multiple Klarna campaigns we could choose from, including this October 2020 advert which was made in response to a conversation with Klarna customers, where consumers felt that representation in the fashion industry wasn't what it should be. 
However, we've opted to pick Klarna's "Get Smoooth" campaigns with Snoop Dogg.
Why we love this campaign: 
Influencer marketing, when done right, is extremely effective. Unlike many brands who use celebrities or influencers simply as a recognisable face, Klarna chose Snoop Dogg to be a part of their marketing campaign due to his genuine interest in the fintech industry. Snoop is actually also a minor shareholder in the company. 

Brand identity is key. Klarna are "proud to be pink", and this is evident in all of their ad campaigns. The company has done a sterling job in securing their brand identity and keeping it consistent throughout their marketing. 

Simply… it's cool! Challenging the 'boring' stereotypes of finance, Klarna teamed up with one of the coolest people out there to bring a whole fresh new vibe to fintech. 
#5- "Quarantine House" | Drop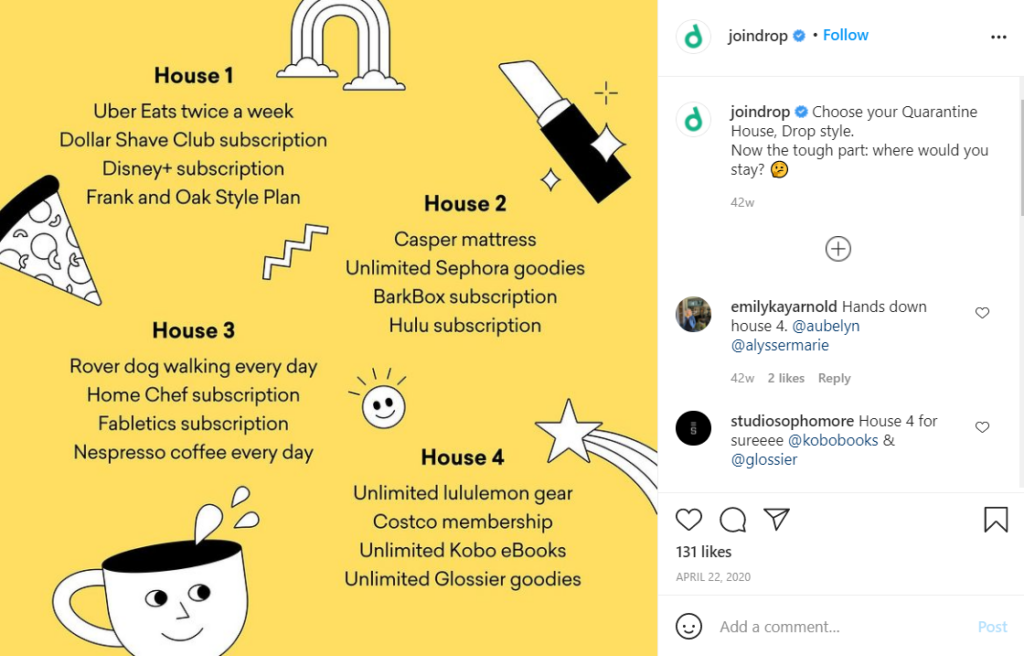 Drop is a Canadian-based mobile rewards platform with over 3 million users. Rewarding their customers with instantly redeemable points while shopping, Drop has given a whole new modern twist to the rewards campaign. 
We generally love Drop's social media presence, with their clear "kitsch" branding style staying consistent across their platforms, and their ability to remain relevant and on-topic shining through in their witty content. During the 2020 lockdown, Drop tapped into what was happening around the world and added a touch of light-heartedness to an otherwise bleak situation. 
Why we love this campaign: 
Drop has mastered the art of visuals on their social media feed. The use of infographics and easily digestible content is key for today's Insta scrollers. 

Interaction. Regularly running competitions and polls to drum up conversation with customers is a smart move for fintech companies in order to increase engagement. 

It's topical. Bringing a little humour to current affairs, Drop has made sure to stay current and relevant by tapping into what everyone is already talking about. 
Last thoughts
With the fintech sector predicted to attract £250 million in funding by 2022, companies in the industry are having to continually revisit their digital marketing strategies if they want to be seen and heard online. Let us know in the comments what you think about these five digital marketing campaigns from 2020, or if there is any you think should have beaten these to the podium!