YouYaa's First Clutch Review: Five Stars!
At YouYaa, we're a digital marketing company that helps businesses achieve growth. We provide traffic generation, lead generation, sales, analytics and reporting, marketing consultancy, and more. Since 2017, we've been offering bespoke growth solutions for small businesses all over the world. We are proficient in modern technologies and knowledgeable about trends in the market. Beyond our innovative approaches, we offer full transparency, ease of business, and world-class support! 
We recently joined the leading B2B reviews and ratings platform, Clutch. Based in the heart of Washington, DC, Clutch aims to help businesses of all sizes identify and connect with the agencies they need to achieve their goals. They cover diverse industries, such as IT, advertising, and marketing, and their team of analysts conducts in-depth interviews with clients about the quality of their engagement with service providers. Clutch also carefully creates lists of the market leaders by industry and location, to enable companies to establish credibility and to allow buyers to find the right provider. 
We're excited to share one of our first reviews on Clutch!
The review comes from EQIBank, a global bank. We've helped their team's expansion efforts by taking over their online marketing campaigns. We're handling their entire digital marketing, from strategy to implementation. Our work includes strategic positioning, content development, advertising and social work. We're handling their Programmatic Advertising for their global DeFi Cryptocurrency offering in multiple markets.
"After speaking with both YouYaa and other providers we decided upon YouYaa because of their transparency, professionalism, and industry knowledge," said the Chief Marketing Officer of EQIBank. "The work is ongoing, YouYaa's workflow has been superb and their attention to detail and professionalism is second to none."
In addition, the client praised our project management skills, communication, and responsive approach. They were impressed with our attention to detail and proactiveness. Due to the success of our engagement, the client gave us an overall rating of five stars! 
Incidentally, we're excited to announce that we have also ranked on the Manifest as a Top Mobile Application Marketing Company in London! Clutch's sister website, the Manifest is a business news and how-to platform that analyzes and compiles industry data. They allow entrepreneurs, SMB owners, and industry managers to connect with top agencies. As such, we're proud to be featured on the Manifest as a leading agency in our field!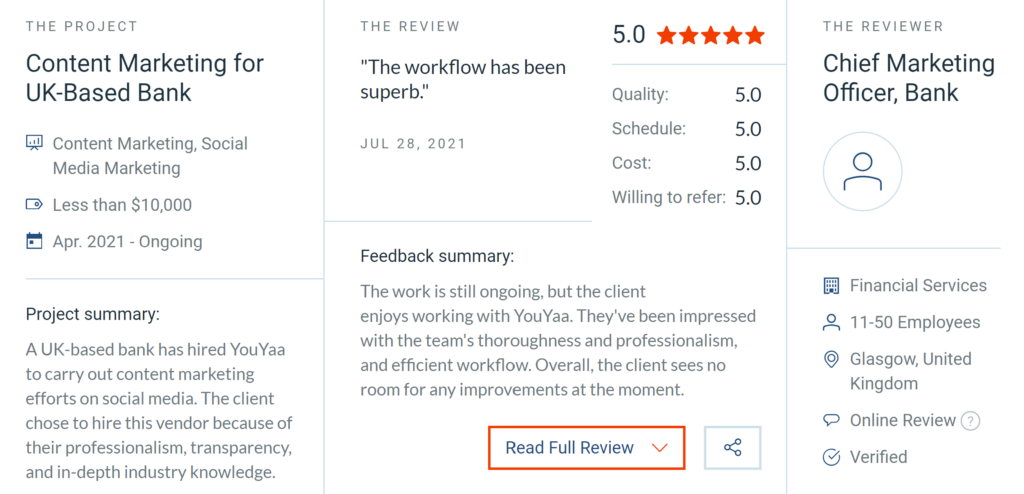 We thank EQIBank for providing a five star review on Clutch. Their positive feedback affirms our excellence as a digital marketing company and our commitment to our clients. We look forward to reading the reviews of our other clients through Clutch!
Do you need help with your digital marketing efforts? Contact us today, and let's discuss how we can work together to reach your goals!