Blockchain developers in hot demand?
Blockchain has moved into the spotlight as one of as the hottest job skill in the freelance market. The sector has grown more than 6,000% since this time last year and it could become the new 'cloud' in the coming years.
Developers with Blockchain skills are fast becoming the hottest property in the marketplace according to a recent report by Upwork. They have shown that postings for Blockchain skills have grown exponentially in recent months, with only those with skills in robotics in more demand.
The Upwork report says: 'Blockchain appears to be the next uncharted, highly talked about technology similar to what the "cloud" was back in the mid-2000's. Its growth exceeded 2,000% for three quarters in a row on Upwork.com, and in Q1 it experienced more than 6,000% year-over-year growth, making it the fastest-growing skill out of more than 5,000 skills on the site.'
More than half of managers said that access to Blockchain skills is their biggest challenge when hiring and around 59% are already using flexible talent. Over the last 12 months on the site there were 5,743 postings for full-time openings requiring Blockchain skills, a growth of 320% on last year.
This is because the initial hype around the technology is now being taken very seriously by many employers as they realise the potential of the distributed ledger that Blockchain uses.
The Upwork report said: 'Major companies such as Samsung and IBM are already leveraging it in innovative ways, while Salesforce is planning on unveiling a Blockchain offering for its customers during Dreamforce in September.'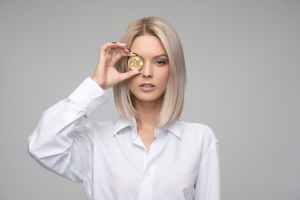 Cryptocurrency developers, who rely on Blockchain skills, were also in high demand in the freelance marketplace – up to the third most wanted in the list of desirable abilities. And people with Blockchain skills can earn as much as $250 an hour according to some listings.
In fact, the median income for a Blockchain developer in the US is around $140,000 a year.This is compared to general software developers who only earn around $105,000. This is mostly concentrated in high tech areas, but it also means there is plenty of scope for work in the freelance market.
CEO of Upwork, Stephane Kasriel, said: 'As skills become more specialized, companies either need to invest in re-skilling to prepare workers for the jobs of tomorrow or leverage freelance professionals who are nearly twice as likely as traditional employees to proactively take re-skilling upon themselves.'
As businesses still try to figure out how they can best utilise the potential of Blockchain, and start to take the technology seriously, demand is far outstripping supply. It is very likely that this trend will continue in the coming years until the infrastructure is in place to provide adequate training on the job. Until then, those with Blockchain skills, just like the cryptocurrencies they run, are in very high demand. If you're looking to learn new skills or just an area of fintech in which to invest, now could be the time to make your move.
Wondering what you should be earning as a Blockchain Developer? Check out the Blockchain Developer Hourly Rate tool from Toptal that will give you a little guidance.